Sound empowers every musician to break free from the broken economics of streaming platforms by releasing new songs to the world's biggest community of music collectors, selling directly to fans, and unlocking new revenue streams. In the past year we've generated $5.5 million in revenue for a select group of creators, and today we're thrilled to announce that Sound's tools are now available to all artists.
In 2022, we launched Sound with a simple hypothesis: if music fans had access to a deeper connection with their favorite artists and were able to directly support them, we could unlock the true value of music. Its value is now trapped by the fixed pricing model of streaming, where only 0.1% of musicians are able to make a living wage from their art.
Sound flips the model on its head. We encourage artists, not platforms or labels, to set the price of their music and sell directly to their fans. They get paid instantly and are able to see their biggest supporters on every track. This is the biggest advancement in music since streaming.
By making music collectible, Sound artists have earned revenue equivalent to 1.6 billion streams — a figure that less than 100 songs have ever reached on Spotify, and has never been achieved on Apple Music. It's an early validation that artists can make a living from 1,000 true fans, without chasing viral hits and millions of streams.
Our goal is to make Sound the home of music discovery on the internet, and we're now opening these tools to all artists. To turn this vision into reality, we've raised $20 million in a Series A round led by a16z crypto, with participation from Palm Tree Crew, Scalar Capital, A Capital, Collab + Currency,  Sound Ventures, Coop Records, Archetype, Crush Ventures, Coinbase, Snoop Dogg, Ryan Tedder, Tay Keith, Paul Rosenberg amongst others.

Mint a free commemorative NFT to celebrate Sound opening to all artists and the next era of onchain music.
We're so excited to start the next stage of this journey with musicians from all around the world. To get you started, here's a bit more about the problems we're solving and how you can get involved as an artist or a music fan.
Make a living from your music
The streaming economy is broken for most artists. Recorded music revenues are at record highs, yet payouts are stuck at $0.003 per stream — a figure negotiated behind closed doors, with no input from the artists, and zero options for fans to contribute beyond the fixed price. Compare this to the gaming industry, which historically shared a fixed pricing model, but has since realized that offering the game for free optimizes for viral reach and charging for in-game purchases maximizes revenue per user. Today, virtual in-game purchases account for 75% of the revenue in the $180 billion gaming industry, a four-fold increase in market share in the last 10 years.
We need to monetize music in the way video games have monetized over the last ten years. Through Sound, artists can run experiments to discover the optimal balance between maximizing reach and charging for collecting the music to unlock proof of fandom, direct access to the artist, and exclusive offers to increase the average revenue per fan.
In our first year, independent musicians on Sound are now living full-time from their music and on the cusp of breaking out, like independent rapper Reo Cragun, who generated more than $120,000 from his music and built a community of 500 loyal collectors in just one year.
Release your first track with Sound today:
Starting today, Sound is open to all artists. You can release music at a price you choose, sell directly to your community, and receive instant payments.
Release your first track. We've made it easy to upload your music onchain. After onboarding 500 artists one-by-one, we've refined the process and created a simple and intuitive way to release your first music NFT with no coding required.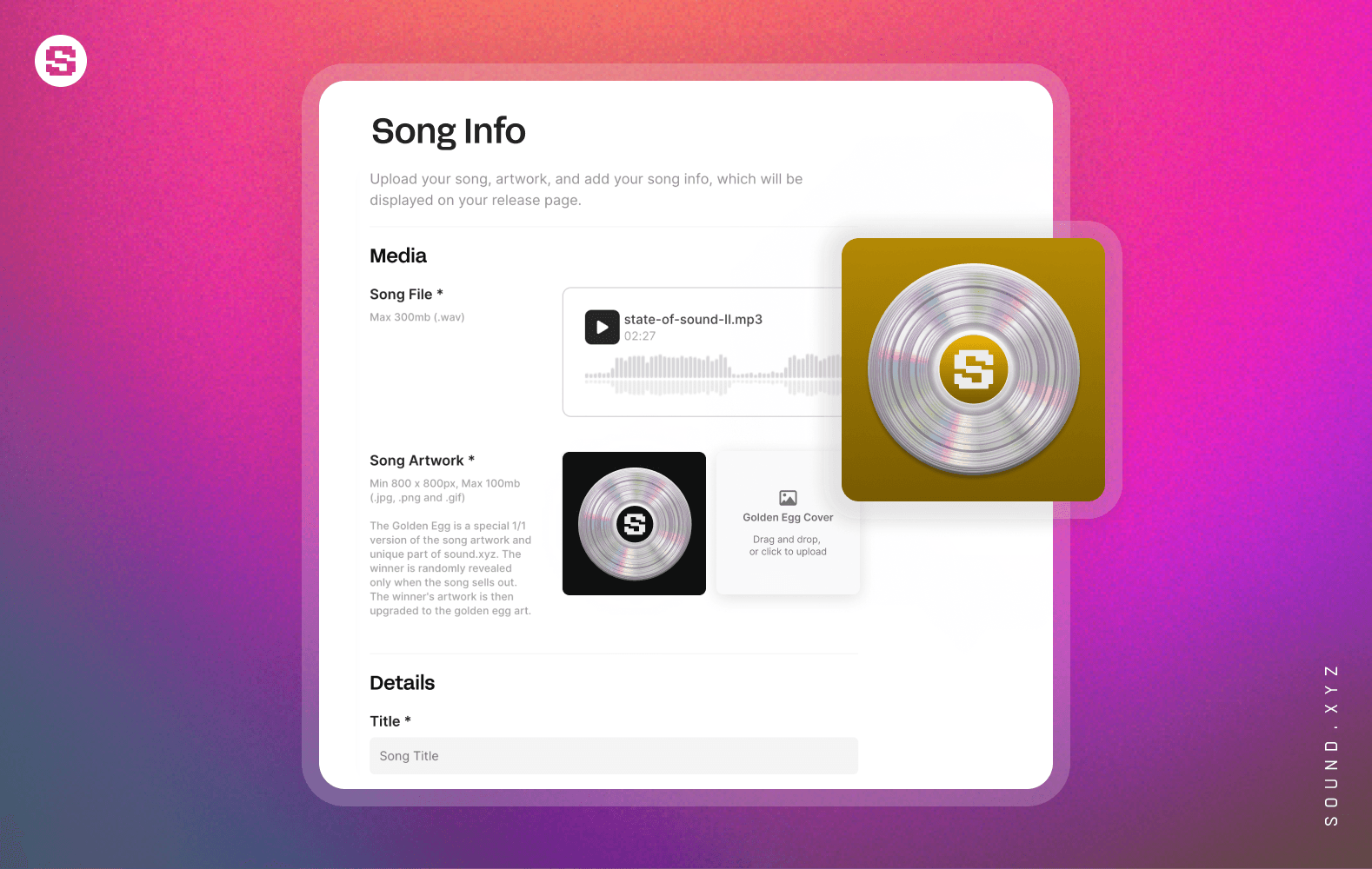 See your biggest and earliest collectors. Streaming platforms provide no insight into your biggest fans. On Sound, you can see exactly who supported you. Your artist profile celebrates your biggest collectors and your earliest fans.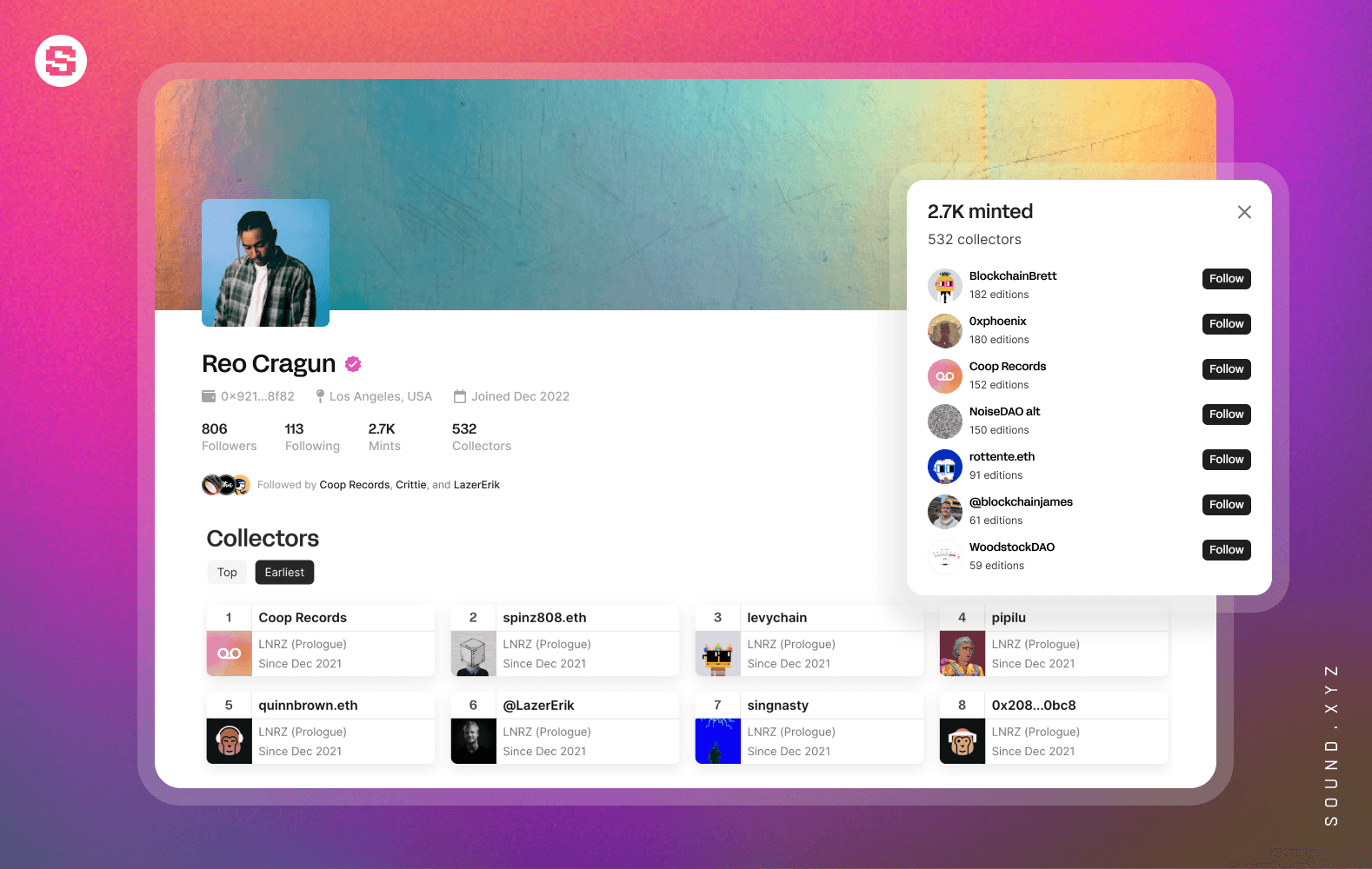 Instant payments and splits, straight to your wallet. Unlike the traditional music industry, where royalties can take months or even years to hit your account, you get paid on Sound immediately, with no middleman. Add splits to your songs to share revenue with collaborators in real time.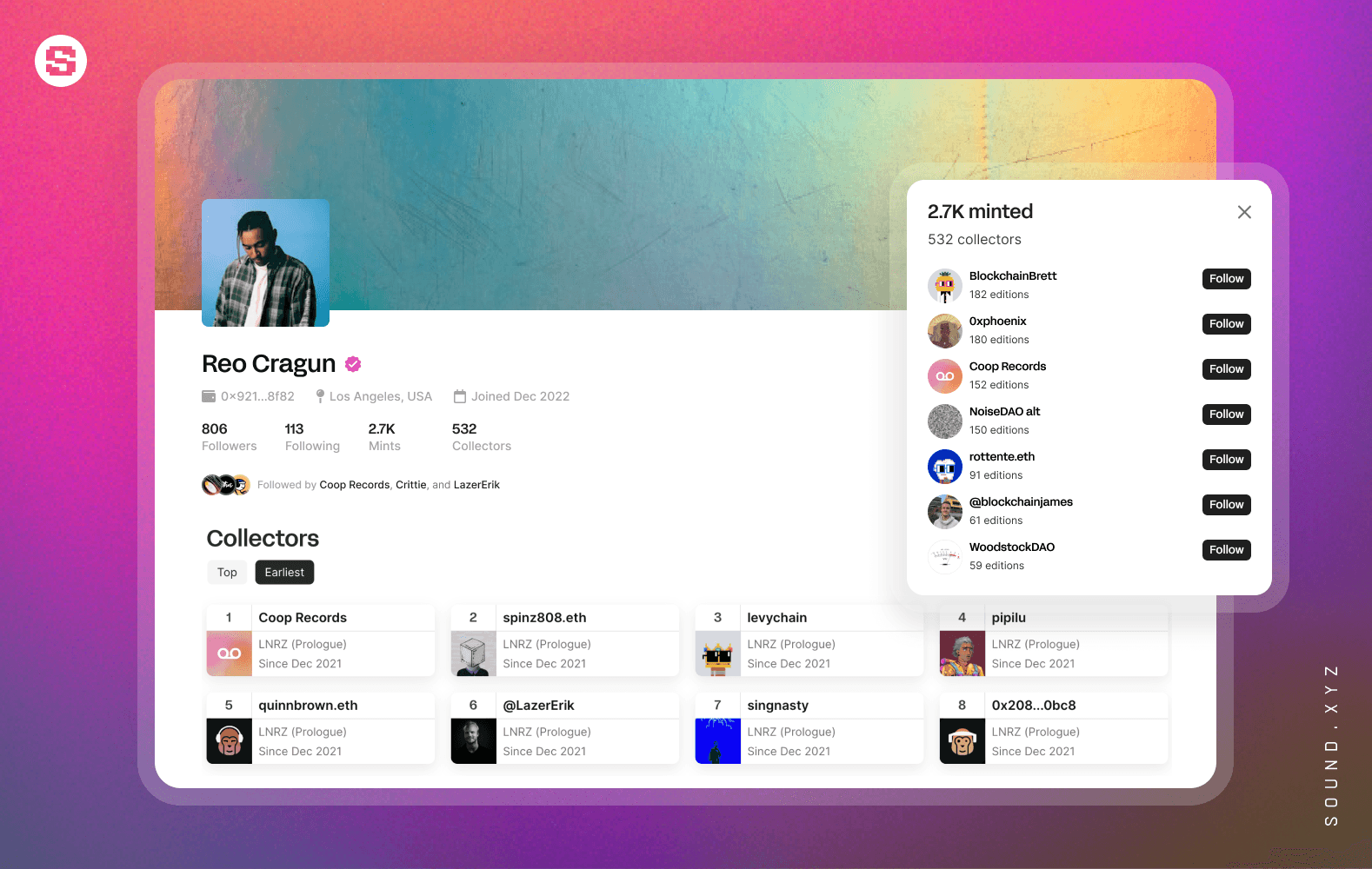 Every part of the platform is designed with artists at the heart. Artists own their own contracts and always will. Artists have creative control over pricing and supply, and can opt out of features they don't align with.
Through Sound, artists can:
Upload songs onchain and maintain complete creative control over how to release their music. Artists decide how to value their catalog.

Fully own the relationship with their audience, without the middlemen. Be your own Nipsey Hussle.

Instant, accurate, and transparent payments every time a fan collects their song.

Artists receive 100% of earnings and retain 100% of master and publishing rights.
Every music listener is a curator on Sound, whether through collecting music or making playlists. Fans get rewarded for actively participating in the ecosystem and creating signal for other listeners. On Sound, music lovers get credit for discovering new music.
As a music fans on Sound's web and mobile app, you can:
Discover the hottest new music releases by rising independent artists.

Collect music to prove you were the first to discover the next Billie Eilish.

Leave permanent comments on songs you collect, allowing other listeners to see your support.

Gain access to group chats with artists and other collectors, amongst other rewards and experiences.

Earn money by making playlists and sharing links to your favorite songs. Curation has value on Sound.
We're just getting started…
Our mission is to create a world where artists can make a living off their music alone, regardless of who they know in the music industry. We embarked on this journey 18 months ago to liberate music from the one-size-fits-all business model and make Sound the ultimate hub for music discovery on the internet. So far, we have seen tremendous success.
Our next vision is even more ambitious: we want to scale this model to every artist out there, big or small, and become the number one destination for music discovery on the internet.
We know that disrupting the entrenched models of the music industry is a daunting challenge. The first era of Sound has proven that artists and fans are excited for something new that celebrates the power of music.
We are thrilled to start the next stage of this journey with musicians from around the world.
If our mission to build the new music economy resonates with you, we would love for you to join us in making this a reality. You can find our open roles here.