Today, we're launching the Sound Market, your new home for Music NFTs on the secondary marketplace.
Here's what to expect:
↳ Easily browse and collect your favorite Sound releases
↳ List on the Sound Marketplace with a 0% listing fee
↳ Aggregated liquidity across OpenSea, LooksRare, and X2Y2
↳ Powered by a decentralized orderbook on Arweave
Secondary sales on Sound are nearing $5 million, signaling healthy activity from collectors discovering and collecting Music NFTs after the initial drop.
Before today, the experience of finding Sound releases on the secondary marketplace felt too fragmented. All songs deployed through our legacy artist contracts were aggregated into a single collection, making it hard to easily see the floor price or view the activity of a particular song. Songs deployed through our new Sound Protocol live as their own collection, but made it challenging to find other releases from that artist.
Music NFTs often felt like an afterthought on existing marketplaces.
We're excited to introduce a music-centric marketplace as a single destination to easily browse Sound releases, list and sell Music NFTs, and add songs to your collection after the drop.
Sound Releases
The Sound Market is the best place to buy and sell Sound NFTs.
We've designed the market to easily let you find:
The latest releases on the platform

All songs from a specific artist

Floor price and market activity
We believe this experience should help collectors better find the songs they're looking to collect, and let you see how releases are stacking up next to others on the platform.
Sound Market also lets you easily browse by artist, aggregating all their songs into an easy to use interface, rather than having to search by each collection.
We're hyper-focused on offering the best shopping experience for Music NFTs - and will continue to refine Sound Market in line with collector feedback.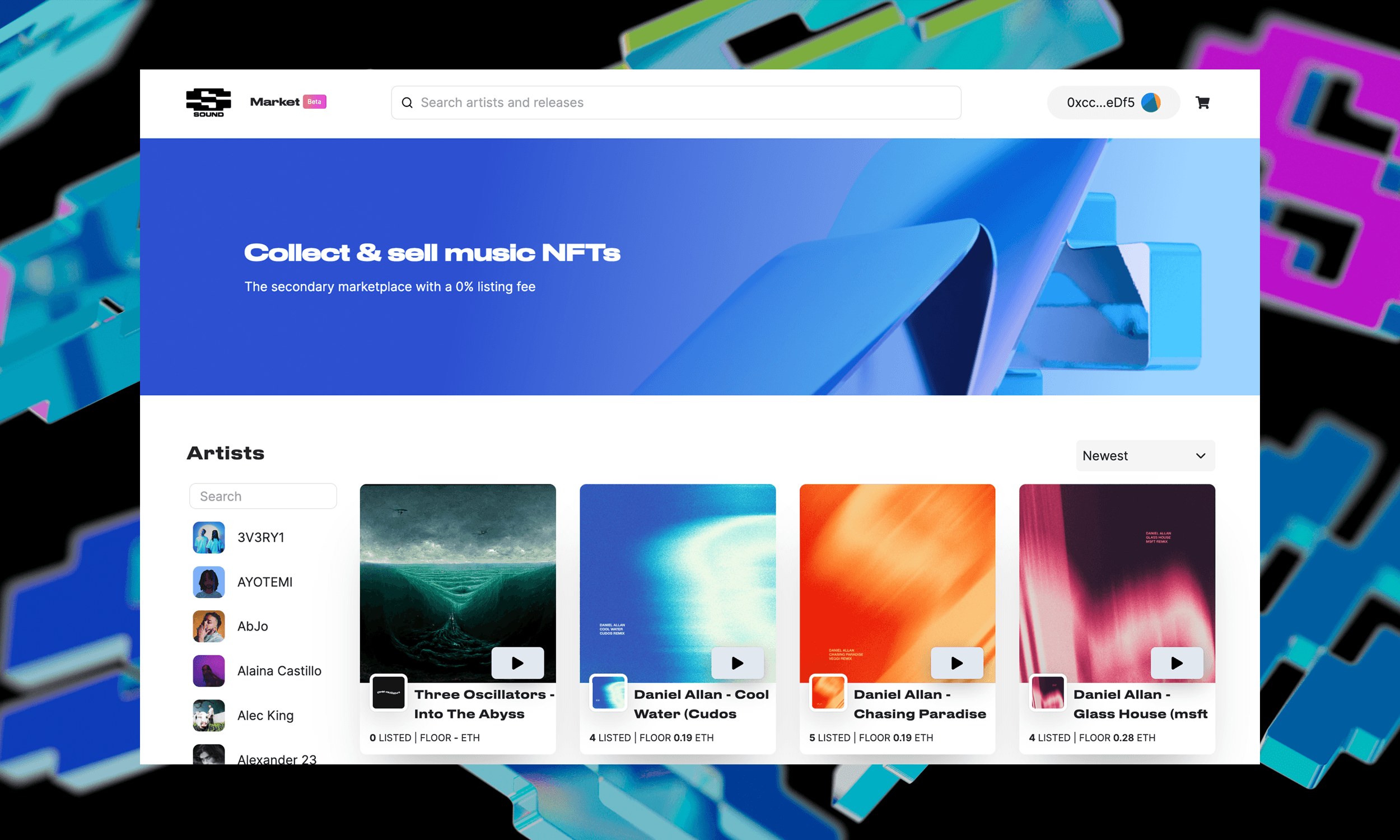 0% Listing Fee
We're launching with a 0% listing fee while Sound Market is in beta to further reduce friction in listing and selling Music NFTs on the secondary market.
For those unfamiliar, popular marketplaces like OpenSea charge a 2.5% marketplace fee on all listings.
Sound Market is built on top of Reservoir - a protocol for custom secondary marketplaces.
We want to empower collectors buying and selling Music NFTs, and we believe a 0% listing fee creates a strong incentive to list directly on the Sound Market.
Artists will still receive a 10% secondary royalty on all sales by default, though we are actively working to allow artists to adjust the secondary royalty on a song by song basis.
Aggregated Listings
And for Music NFTs listed outside of Sound Market, they still show up!
Sound Market aggregates listings across OpenSea, LooksRare and XY2Y - ensuring you're seeing the best offers across multiple marketplaces.
While we want Sound Market to become the default way to collect Music NFTs - we're aware that many users have grown accustomed to marketplaces like OpenSea.
We don't expect everyone to list on Sound Market right away, and want to make sure that the shopping experience highlights the best listings possible.
Sound Market will actively keep tabs on new and emerging marketplaces and look to integrate platforms that bring deeper liquidity to Music NFTs.
Power Trading
We want the Sound Market to empower collectors of all shapes and sizes.
Sweep the floor by buying multiple Music NFTs at once, or make a collection off to make sure you get the price you want.
Sound Market comes fully equipped with stats to easily see the floor price of each song and browse secondary market activity from collectors like you.
Decentralized Orderbook
Offers made on Sound Market live on-chain thanks to Arweave.
This means that even if Sound Market were to go offline, orders would still exist under the hood.
This mirrors our belief that metadata and rarity should also exist on-chain, following the same principals we laid out with the Sound Protocol.
For our non-technical readers, don't worry - everything will look and feel exactly the same.
Just know that under the hood we're making a strong commitment to decentralization!
What to Expect
To start browsing collections on the Sound Market head to market.sound.xyz.
As of today, all drops will now link to Sound Market once they've sold out.
We're excited for collectors to start exploring this new secondary market and share their thoughts.
Music NFTs have long deserved a music-centric shopping experience. Sound is proud to offer this tool as we continue to help artists get their music heard and paid.
See you out there!