Gm.
Sound has onboarded a total of 68 incredible artists.
We initially set out to unravel the existing music paradigm that rewards the few at the expense of the many – and in its place, build an ecosystem that values artists and their music for what it's worth (a lot more than $0.0033 per stream) while connecting fans more closely to the music they love.
In three months, the Sound community has generated over $1.6 million in proceeds paid directly to those 68 artists - equivalent to roughly 500 million streams on DSPs like Spotify and Apple Music.
We've had the honor of sharing the unique stories that are resonating with their fans. All of our 86 releases have consistently sold out (usually within seconds), and 1,828 unique collectors have invested in and supported those artists.
Secondary market volume has eclipsed primary volume with over $3 million traded since launching in December 2021.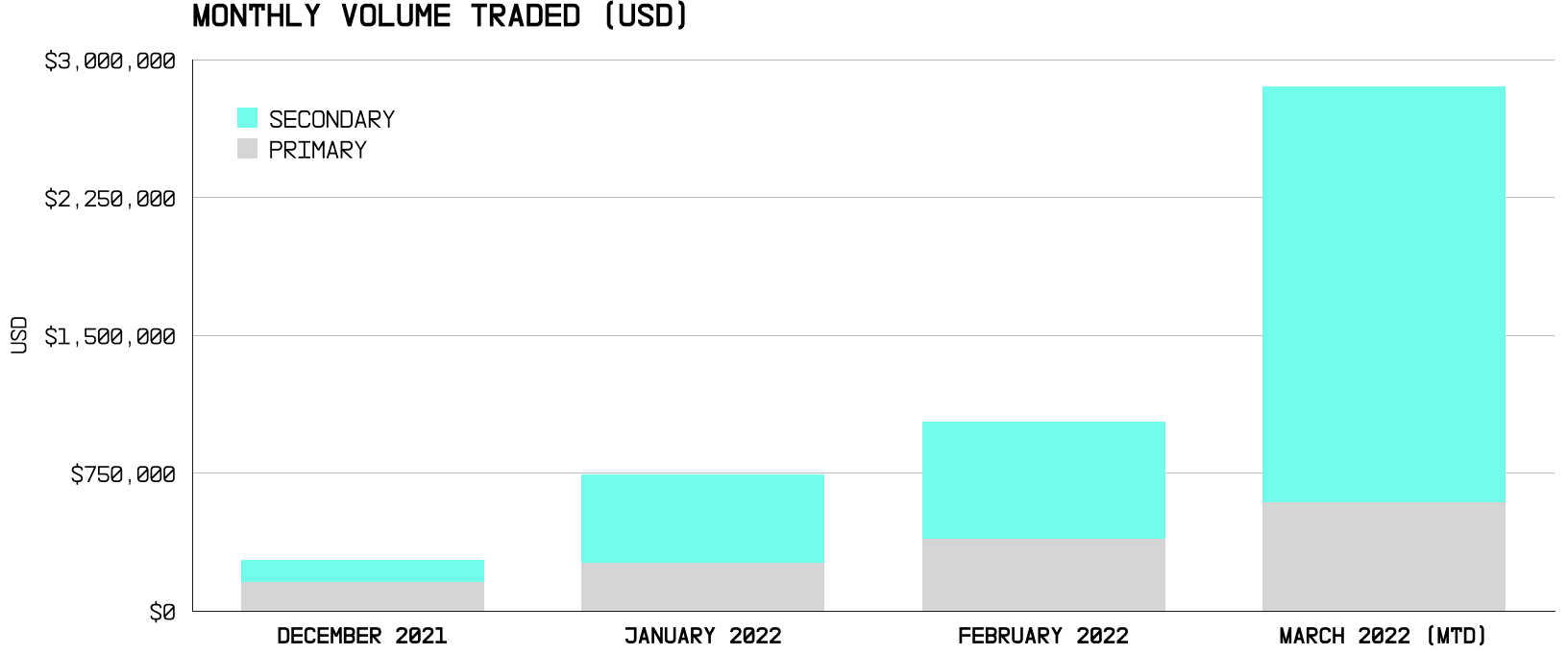 Some highlights from Season One:
Song Splits: Integrated 0xSplits Protocol to allow artists to set public on-chain splits, enabling proceeds to be instantly distributed to all collaborators who contributed to that track.
Trending Charts: Launched artist and collector charts to celebrate the artists making waves and collectors supporting those artists.
Queues: Implemented a new queuing system to facilitate a more favorable minting experience to reduce botting and failed transaction fees.
Greenroom: Beta-tested v1 of our collectors-only chat during listening parties for the community (which was wildly well-received so we're starting to build in additional social features).
Hosted our very first radio mix with Soulection with 18 different artists and 34 tracks to debut the Song Splits feature.
Launched a drop with Snoop Dogg that sold 1,000 editions and has since exceeded 400 ETH in secondary trading volume.
Updated the Golden Egg Audience to more clearly highlight the owner of the 1/1 NFT for every Sound drop.
Hosted our inaugural bi-weekly Sound Circles (Twitter Spaces) and Sound Holders Town Halls (verify your status in Discord for access to our next one).
Despite all of that, we still have lots to do. We aren't stopping until all artists can make a full-time living off their music alone, and we're excited to roll right into Season Two.
Introducing Season Two: Respect the Collectoooor
We're immensely grateful for our community of collectors - they have consistently supported our artists and have been instrumental in offering feedback that influences our strategy and product decisions.
The theme for Season Two will be about highlighting and rewarding collectors.
Presale Pages
We're launching presale pages to give collectors advanced access to Sound releases (of course, at the discretion of the artist). This will increase the likelihood of minting your favorite artist, and create a stronger incentive to collect work from earlier Seasons.
We're exploring ways to highlight collectors who minted during the presale, including a new Audience display and trait to show who was there first.
In order to preserve an ethos of inclusivity, we'll only be reserving a portion of supply for presale access so that new listeners have the opportunity to support their favorite artists.
For new artists, the top 10 Sound collectors will receive exclusive presale access for up to 10 editions (out of 25).
For returning artists, holders of any prior drops from that artist will get advanced access for up to 25 editions (out of 50).
Any unsold editions will be added back to the general sale.
Artist Chats
We're expanding Greenroom into token-gated chat rooms between artists and their collectors.
Rather than one global chatroom, we want collectors to have conversations around specific artists and drops, gated by their Sound NFTs.
Collector Calls
We'll continue to host our bi-weekly Sound Circles and Sound Holders Town Halls and find more avenues for collectors to get involved and potentially even play a hand in the artists that drop this season.
Season Two Onboarding
We'll continue to onboard new artists to Sound to release their music and amplify their stories. New Sound artists will drop with 25 editions at 0.1 ETH.
Artists from our Preseason and Season One will be invited back to release new music in Season Two. They'll be able to select their own drop time and can now mint up to 50 editions.
We'll continue to experiment with different featured drops that don't fit within the confines of our standard release structure, which we'll use to test and evolve our product. This means drops with more than 50 editions, and price points that deviate from the 0.1 ETH standard.
We want to build an ecosystem that is inclusive for everyone: artists, songwriters, producers, curators, and collectors. While we aren't quite ready to completely open Sound to all artists, we're working on ironing out the product, scaling, and legal considerations necessary to allow any artist to release their music.
Our vision has always been to fully unlock creative freedom for the millions of diverse artists creating music for equally diverse listeners, and we're committed to making this a reality.
If you're an artist eager to release on Sound, join our Discord and let us know why. We're keeping a close eye on the community, and look forward to highlighting more rising stars alongside household names in Season Two.
Closing Thoughts
Thank you for joining us on this journey.
We've been lucky to share the stories of 68 artists and have millions more to tell.
We're eternally grateful to our community and can't wait to continue building the future of music with you all.
If you're interested in joining the Sound team, we're hiring!
Whether you're an artist, collector, builder or general music enthusiast - Sound has a place for you.
As we look towards the next Season, we look forward to expanding on the way artists are fairly valued for their work, forever.
p.s. Connect with us on Twitter or Discord to stay updated on Season Two