NFTs enable users to own digital objects for the first time through a set of blockchain standards that are interoperable, re-mixable, and secure. Music NFTs showcase the disruptive power that ownership can bring to the relationship between artists and their fans, enabling artists to break free from the broken economic model of music streaming platforms, which fix the price of music and prohibit the vast majority of artists from making a living.
We launched with a simple hypothesis: that there is an unmet demand for listeners to support the artists they love. Our initial drops have demonstrated that our vision is possible: all seven drops sold out in under one minute. This is early validation of one of our foundational beliefs: digital ownership, via NFTs, allows artists to make a living off their music with 100 true fans, not millions of listeners.
To put this into perspective: Sound generated 21 million streams' worth of revenue for seven independent artists, in under seven minutes. The economic model for streaming isn't just broken, it is failing to unlock the full value of music and facilitate listeners' desire to directly support artists and discover music as a community. Artists and their communities should determine the value of music, not platforms and labels.
Following the success of our initial drops, we're more excited than ever to work towards our vision of a future where a million artists can make a living from their art. To turn our vision into reality, we've raised a $5M Seed round led by a16z with participation from Variant Fund, Palm Tree Crew, Weekend Fund (Ryan Hoover), Atelier Ventures (Li Jin), Scalar Capital (Linda Xie), Packy McCormick, Flamingo, The LAO and angels including Trevor Mcfedries, Cooper Turley, Jacob Horne, Jing Wang, Sina Habibian, Breck Stodghill, Steve Klebanoff, John Palmer, Marc Weinstein, Holly Herndon & Mat Dryhurst, Jess Sloss, 21 Savage, DJ Drama, Tunde Balogun (LVRN), Stevo Dingle, Trevor Patterson, Conor Ambrose, Jesse Coren, and Charlie Christie. We are grateful to have their support on our journey.
Music Without the Middleman
Sound is built on a few key principles that are reflected in how we connect fans and musicians.
First, releasing a new song is an event— not an afterthought. Launching a Listening Party on Sound gives artists and fans an opportunity to rally around the song as a community. Fans mint an NFT of the track to leave a comment on their favorite part of the song, and have a chance to unlock the rare Golden Egg artwork that turns their NFT into a special edition 1/1. NFT purchases also come with a spot in the Audience section, letting the world know who's a supporter.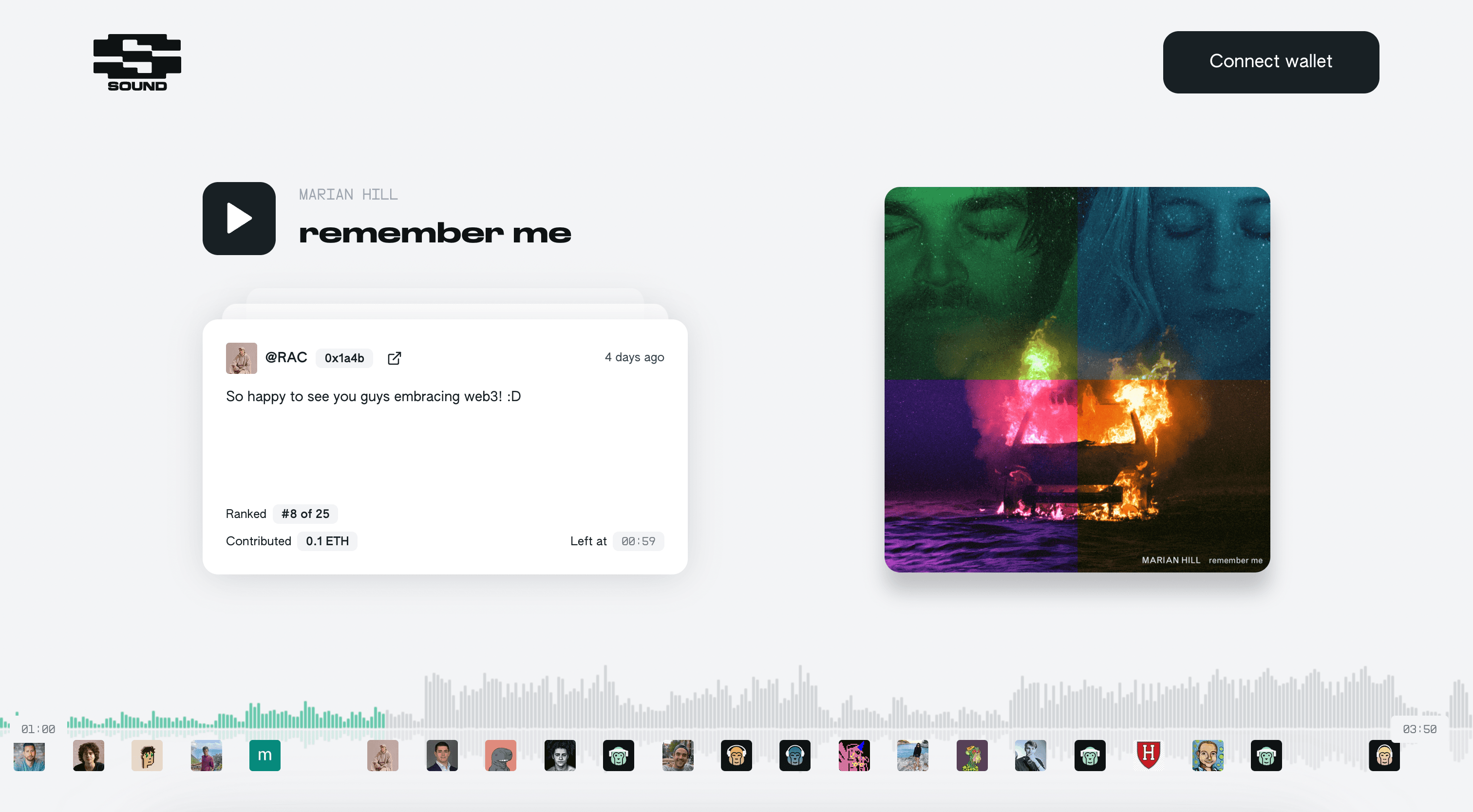 Second, every song tells a story. Behind the Music is where artists get to share the context around a song and all the details that make it so meaningful. It's a chance to build a deeper relationship between artist and audience by letting musicians shape the narrative around their art and bring fans into their world more fully.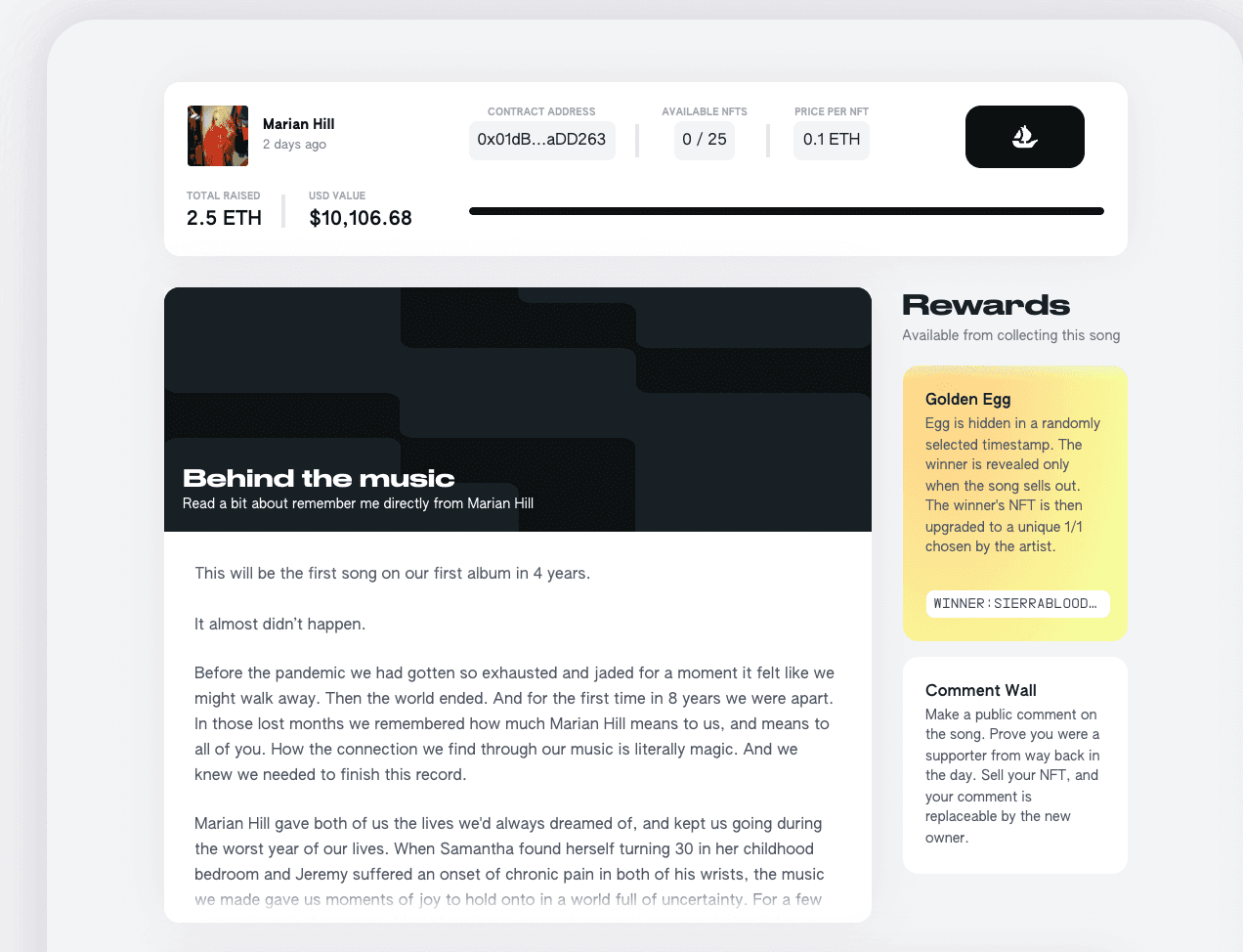 Third, artists, not platforms, should own the relationship with their listeners. Sound Studio allows artists to mint original high-quality song NFTs while retaining true ownership and provenance of their work, because the smart contract is unique to each artist— meaning it won't get lost in the sea of NFTs on the secondary market.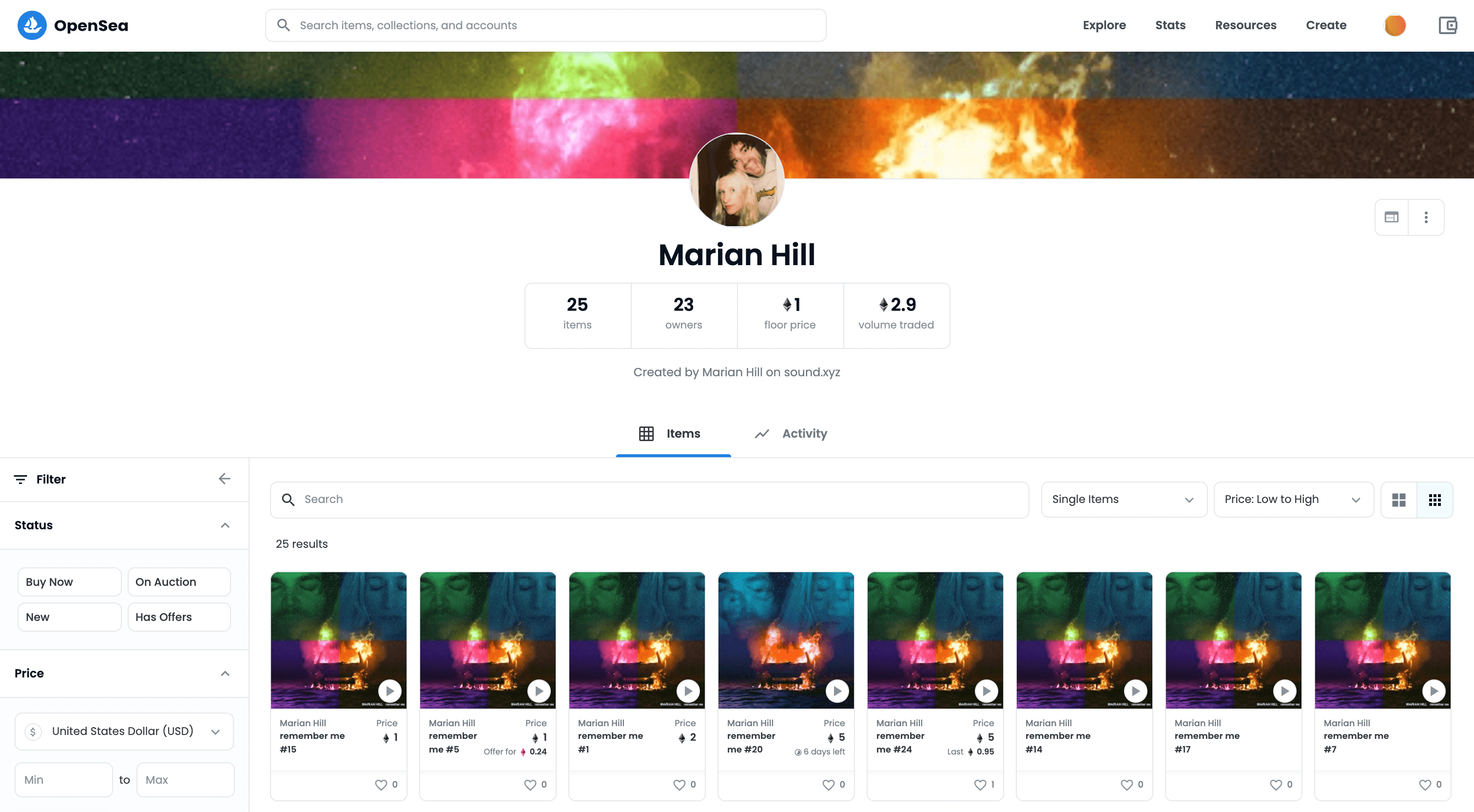 Building What's Next— and How You Can Help
There are many other features we're excited about at Sound to make it easier for artists to make a living from their work.  A glimpse of our product roadmap includes:
A communal listening experience that makes Listening Parties feel even more like a synchronous social experience, taking inspiration from the holy grail of music experiences: concerts.
A model that allows music curators to add value and monetize their ability to discover emerging artists.
A crowdfunding feature that allows artists to raise funds from their communities for upcoming projects (i.e. albums, music videos).
A better artist onboarding experience so we can sustainably grow our community from an initial cohort of genesis artists to millions of artists around the world.
If our mission to build the new music economy resonates with you, we would love for you to join us in making this a reality. You can find our open roles here. If you don't see something that fits you, email us your dream role at gm@sound.xyz.